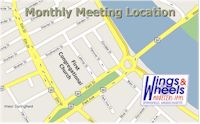 click to expand
The First Congregational Church,
located at the corner of Park and Lathrop Streets in West Springfield, MA.
The entrance to the hall on Lathrop. Park Street is westbound Route 20 .
From the rotary, head west on Rt. 20, continue past the Dunkin Donut shop, a package store, a convenience store and a pizza shop . The church is on the west corner of Lathrop and Park, but the meeting area is accessed from Lathrop. Lathrop Street is one-way feeding into Park Street, so you'll need to street park on Lathrop, or park in the small Park St. lot adjacent to the green, or in the senior center lot on the right, next to the church.